My picture book favorite: Her Right Foot by Dave Eggers, with illustrations by Shawn Harris, is a wonderful quirky history of the Statue of Liberty. Part architectural history, part immigration study, this is a lovely and loving look at an American icon.
And YA pick: We Are Okay by Nina LaCour. Marin hasn't spoken to anyone from her old life since the day she left everything behind. No one knows the truth about those final weeks, not even her best friend Mabel. Now, months later, alone in an emptied dorm for winter break, Marin waits. Mabel is coming to visit, and Marin will be forced to face everything that's been left unsaid and finally confront the loneliness that has made a home in her heart. This lovely, haunting, emotional volume is the book I keep coming back to this year. I can't get Marin and her story out of my head.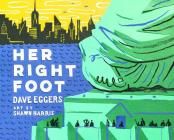 $19.99
ISBN: 9781452162812
Availability: On Our Shelves Now....best to call before coming in to pick up.
Published: Chronicle Books - September 19th, 2017
---

$17.99
ISBN: 9780525425892
Availability: Usually Ships in 1-5 Days
Published: Dutton Books for Young Readers - February 14th, 2017
---